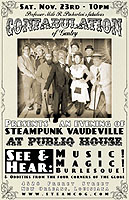 Sorry I haven't had time to post anything lately, but life has been chock full of wonderful work, bringing to life these various projects, one of which is coming to fruition tomorrow (Saturday) night! The 'Dixieland' side of C.O.G. will be presenting, for the first time, an expanded 'vaudeville' style show, with magic, juggling, freakshow and fan dancing acts in between the music. It's going to be at a wonderful new place called 'Publiq House', which I've been quite keen on getting into. Really looking forward to this!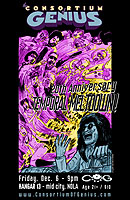 Also on the back burner, and steadily moving forward, is the 20th Anniversary Show... just got the poster art in for that, and completed a crazy parody Kickstarter for promoting this show (more on that soon.) In the background, I've been interviewing all my bandmates from the past 17 years of the stage act. This is going to be wonderful, but time is getting really tight!

I'm working on a number of technical upgrades for this show as well... including a much larger projection screen and enhanced lighting (it's always about the lighting these days, isn't it? LOL!) Very happy with the way the band's been sounding, and we've been doing 'throwback' rehearsals with the alumni as well each week.