Well, it's certainly been long enough since I posted here! What's been going on?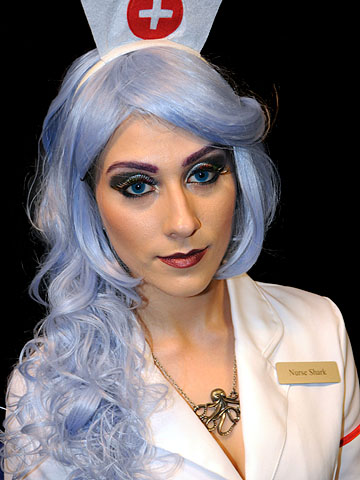 Well first and foremost is the news of a new female vocalist in the band... Susanna Curtis is going to be making her debut on August 8th as 'Nurse Shark'. Her capabilities include vocals, keyboards, and a little guitar to boot. You'll be learning a lot more about her strange background and strange powers.. Seriously excited about what the next few shows will bring!


Also, Joe Panno (formerly 'Experiment F13') is back to stay as Dr. Sardonicus. Joe played his first show in a couple years with C.O.G. last month at Bayoucon, and did great. For bigger shows, he and Lester McLummox, each quite capable on his own, make one hell of an imposing two-guitar strike force. Joe's quite prolific in the music-writing department as well so expect a lot of new tunes from the C.O.G. soon...

I'm also working on bumping our lighting up a notch; bought a new animation laser and am currently working on a centerpiece that will be part of the back-screen. More on that later.

Oh, and before I forget to mention, the show August 8 will be with one of my favorite bands we've never played with - URIZEN, an awesome geeky metal band from Dallas that take their theatrics as seriously (and by that I mean humorously) as we do! It'll happen in a couple weeks at Southport Hall, in Jefferson LA. Stoked!